Competent - Quality - Special Equipment - Products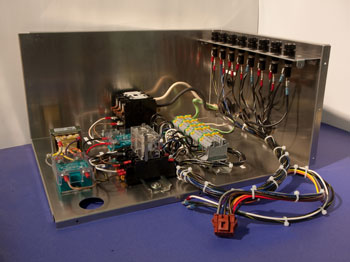 Competent Partnership, Better Quality, Lower Cost, Reduced Lead Time. Cost savings start in the quoting process. First we purchase millions of dollars in materials annually. This provides us purchasing power and lower costs than many of our competitors. Prints are reviewed for cost saving opportunities in materials needed to build your assemblies.
The prints are then reviewed for labor costs and opportunities to reduce costs to build. From these activities a quote is provided for your review but the process really does not stop here.

Once a PO is received our own staff engineers review your custom cable assembly drawings looking for opportunities for improvements that can further reduce your custom cable assembly cost, provide better quality and reduce lead time. We only change a component for a custom cable assembly with your prior approval.
We have strong relationships with national and local distributors in our industry. On site stores are provided by Avnet, TTI, Sager, Allcable, Heiland Electronics, and Waco. This provides us, in many cases, free shipping, discounts, and contract pricing.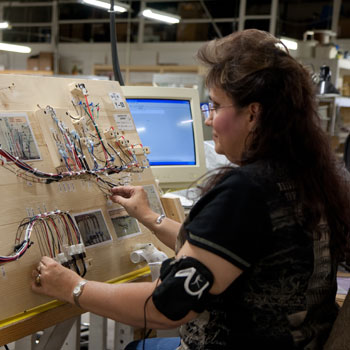 We have established Kanbans or stores for many clients. This reduces the inventories our clients maintain and provides just in time delivery as well as improved quality. What this means to you is we build to a percent of your annual forecast based on lead time of the components and an agreed upon economic build. We package the custom cable assemblies in agreed upon quantities and have them waiting for your request to ship, saving you inventory holding costs. Assemblies are never late so your production is never held up and your buyers can focus on other components.Your cash outlay is smaller because you are bringing in smaller receipts based on larger economic build pricing for custom cable assemblies.
We have an extensive amount of tooling already at Gater Industries so special tooling for your project may not be needed. Our equipment is modern and efficient custom cable assembly equipment.
We want relationships with clients, not customers. A client relationship exists where both organizations benefit from mutual involvement in the finished product. We prefer to get involved early in the design process so we can assist in providing designs that are of better quality, lower priced and easier to build.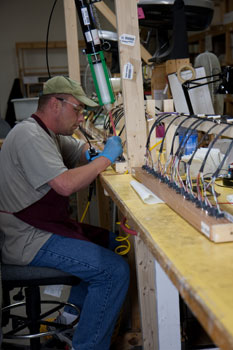 Between the president of our company, purchasing manager, quality manager and engineering manager we have over 50 years of experience at Gater Industries. We use this experience to help our clients because we know the more we can help them reach their goals the more we will reach ours.
Custom cable assemblies are our expertise. Please use us as an extension of your engineering team for custom cable assemblies. We will use our experience to review and suggest opportunities to make your designs better.
Our internal production document, Cut Card, is the instruction of how to build. Wire lengths, type and gauge of wire, terminations and/or processes such as tinning of wire, in-process inspections to be completed and assembly notes are additions to your print that aid in the building process.
We build a first piece and take digital photos for future reference to help define the building process.

We build assembly aids such as layup boards so we can consistently produce the same assembly.
We build inspection plans so final inspection is completed on key characteristics. We build mating assemblies so we can electronically test for opens and shorts.

We build a shipping plan which protects your custom cable assemblies.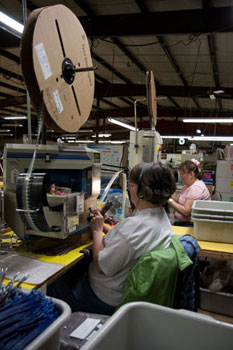 We have certifications with UL, CSA and ISO 9001. We believe in continuous improvement.
We chart our internal and external PPM's. We hold monthly meetings to review and discuss our results.
We have gone paperless where ever possible. We retain records on our assemblies which include parts pulled to build the assemblies, Cut Card information, final inspection data, individuals who worked on the assembly and what operation they completed, invoicing information, correspondence related to the assembly, all prints and bills of material, purchase history, etc.
We have a custom barcode system that tracks component status, individual assemblers' time and operations completed and tooling used to build custom cable assemblies.
We have modern equipment and trained operators to build custom cable assemblies.
We have crimp height monitors on automatic crimp equipment.
All prints are scanned into our computer system for future review and are available throughout our facility.
We record the results of every lot in final inspection to help spot trends.
We use IPC 620 and are ISO 9001 certified.
We always provide a corrective action on any returned custom cable assembly. This will inform you of what we have done to eliminate the problem and provide continuous improvement.
We average around 85 total employees.
Gater Industries was the first company in Wyoming to earn ISO 9001 status.
Our primary product has always been custom cable assemblies.

Growth has led us to expand our facility three times since 1975. We now have over 25,000 feet of space in our plant devoted to custom cable assembly manufacturing.
Our operators have average tenure of over 5 years.
Located in Wyoming, Gater Industries has no corporate income taxes.
We are ISO 9001 certified.
We can also provide certifications for low power custom cable assemblies through Underwriters Laboratories (UL) as well as Canadian Standards Association (CSA).
Restriction of hazardous substances (RoHS) has also become important to many of our clients. We have in place procedures for identifying, handling and soldering components used to construct your custom cable assemblies to be RoHS compliant.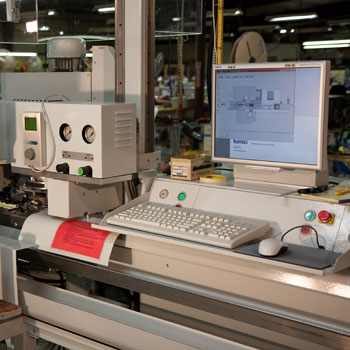 Computer barcode tracking of your custom cable assemblies; every assembler's time is tracked for future cost planning. Our system also monitors all tooling used on a custom cable assembly for traceability.
We own two Komax, Gama 333 fully automatic lead making machines. These machines can cut and strip wire and apply terminals at a rate of up to 4000 per hour while crimp height monitoring each terminal for quality results.
Komax is a leader in the manufacture of automatic wire processing equipment. We own a number of their processing machines, not only the Gama 333's but also three Komax Model 34 wire cutting machines and a LCD-HMI ribbon cutter.
Schleuniger is also a big name in custom cable assembly equipment. We own two JS 8300 cable jacket strippers. These jacket strippers cut into a jacket an established distance so that even non-round jackets can be easily removed without damage to the inner conductors.
We own a MP 257. This Schleuniger machine is capable of making seven separate cuts on a coax cable in seven seconds. This makes producing custom coax cables easy. We own a Schleuniger OC 3950 ribbon cutter and shrink tube cutter that can cut thousands of pieces per hour.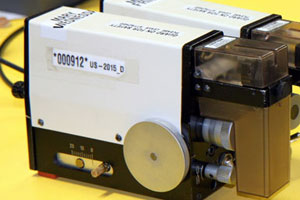 Schleuniger also makes wire strippers that adjust to the size of the conductor you are stripping and the length required. With a touch of the wire to a activator the wire is consistently stripped to the correct dimensions. We own many of the US 2015, US 2100 and the US 2500.
Another time saving tool is our Schleuniger Stripper Crimper SC-200. This strips and crimps a terminal onto a wire in one step saving time and money.

Artos C-6 ribbon and cable cutter
Multiple ITT Cannon CWS Wire strippers
Multiple hand crimping tools
Raychem Infra red IR 550 for solder sleeve applications
Caveman wire cutters for fast hand cutting operations
Multiple Tyco G presses.
Over 65 Tyco, Molex, Hirose and JST applicator's for use in the Komax Gama 333, Tyco G, Hirose and JST reel presses
Hirose automatic crimper
JST automatic crimper
ITT Cannon Vibra Bowl automatic crimper for mil-spec loose piece terminals
Over 150 different hand crimping tools for Tyco, Molex, Pancon, JST, Hirose, Crown, etc.
ITW-Pancon and Tyco insulation displacement equipment
Stormtronics MT-II wire twisting machine
Sumimark III for labeling on shrink tube
Multiple Cablescan electronic continuity testers used with and without certified custom cable assembly layup boards
Hi-pot testing equipment
Multiple ITW-Pancon automatic cable tie guns
Potting equipment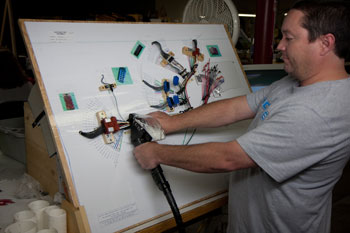 Gater Industries offers a wide variety of build to print custom cable assemblies. From the simple jumper wire to the complex assembly with a 70 page wiring list. We take pride in providing custom cable assemblies to our clients which are built correctly and on time.
We have worked hard to keep our systems simple and complete. Nearly all of our processes are automated so that we might provide our clients with cost savings and excellent quality. We utilize Cablescan® equipment to establish an electrical footprint then electronically test all custom cable assemblies which are reasonable and feasible for such testing.
Ribbon Assemblies, Discrete Wire Harnesses, Multiconductor Cables,
Electro-mechanical Assemblies
Coax Assemblies, Mil-spec Harnesses
Gater Industries builds ribbon assemblies from the simple with a connector on each end to the complex with multiple connectors and folds. We utilize a 3M, 3870 semi-automatic machine which can apply up to 600 connectors per hour. We work with .025", .050", .156", 1.0MM and flat to round cable.
Over 70% of Gater Industries' business is represented in discrete wire harnesses. We currently maintain records for over 4000 different client assemblies. Our processes for discrete wire assemblies are automated from wire cutting, stripping and termination to twisting and cable tie application.
Coax assemblies are a specialty at Gater Industries with a very experienced team of assemblers producing this product. We utilize a Schleuniger MP257 Automated Coax Stripper which is capable of a 7 step strip in 7 seconds. All coax assemblies are Hi-pot and/or continuity tested.